If you're considering applying to trade on our website, this FAQ section may provide some helpful information. For a visual overview of the trading platform, please watch the video.
If you need help with something, check out the Online Trading Guides which include step-by-step video guides to every part of setting up and using your online shop.
Benefits of Trading on the Website
Just like a fair, when traders work together to promote one central website, they can significantly increase the audience they reach and everyone benefits as a result. What's more, you won't need any advanced technical knowledge, and you don't need to have your own website. If you do already have a website or online shop, however, you can link to it from your Vintage Ireland shop and attract more customers as a result.
All of the items listed by traders are available to view on one main page that looks just like any online store. However, each registered trader also gets their own unique shop page. You can share and promote this shop page with your clientele, post it to any social media you may use, and so on. If you haven't done so already, you might like to watch the overview video at the top of the page (or click here). Every time you list an item, it will automatically appear both on the main page and your shop page.
Your items will be appearing on a website with an existing following composed of your ideal target demographic: people who appreciate antiques, vintage items and collectables. In addition, your items will occasionally be promoted through our various marketing databases and social media profiles.
In turn, all of this helps to promote the fairs. You can think of the website as a window display, showcasing a selection of items that can be purchased online and affording the viewer a little glimmer of what the fairs have to offer.
Features
| | |
| --- | --- |
| Sell to customers throughout Ireland & NI | Accept credit/debit cards online |
| One central online marketplace for all traders | Plus your own unique online shop |
| Easy to set up and manage | Video and written step-by-step guides |
| Show items as "on sale" when you reduce a price | Schedule sale offers to end automatically after X days |
| Pause your online shop any time with "Vacation Mode" | Add an assistant or staff member to your account |
Who Can Trade on the Website?
The Vintage Ireland trading platform is intended to work hand-in-hand with our offline events. As a result, registration for a trader account is by invitation only and is currently only available to those who have already participated in a number of our offline events and intend to continue doing so regularly.
What Does It Cost to Trade on the Website?
There is a yearly membership fee and a small commission on each sale. Details of both are shown on the website during your registration process and included in your invitation to register.
This annual membership fee helps us to meet the overheads and continue providing this platform, and the commission is a nominal percentage.
You can list antique or vintage items, along with traditional collectables and certain artworks, including but not limited to collectable coins and other currency, stamps, postcards and limited edition works. For the time being, we ask that you do not add anything above €250 in value.
    !
With the exception of certain artworks, you cannot list modern-made items, unless they are part of a limited edition and are numbered. Modern-made items, including designer items, will be removed without notice or explanation.
Repeatedly listing inappropriate items may also result in a trader's account being deactivated. Unlike an event, a website does not have a sense of atmosphere, and it must instead retain a very clear theme. If in doubt, leave it out.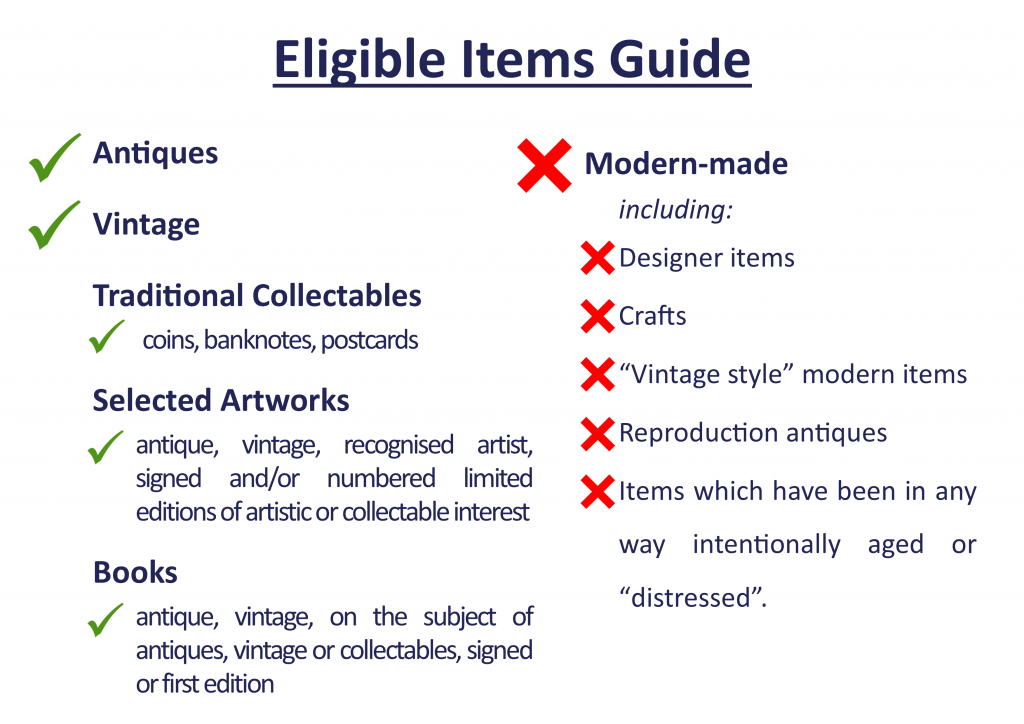 How Many Items Can I List?
At the time of writing (August, 2021), there is only one type of membership plan, and it allows you to list up to 10 items at any one time. If you sell or remove an item, you can replace it with another item. As stated above, for the time being, we ask that you do not add anything with a price greater than €250.
If eligible (see Who Can Trade on the Website?), a trader registers an account and signs up to an annual membership subscription fee. Your subscription fee is processed by a well-known secure online payments service that will also be used to process payments when customers purchase your items.
We'll approve your account, and then you can set up your shop and create an account with the secure payments service. All this takes under an hour, but we have step-by-step written and video guides. These videos play in order and will walk you through every stage of setting up and using your online shop.
Within a few days, the payment service will need you to provide a photograph of some ID (passport, driving licence, etc.). You can do this with a smartphone camera, a webcam or a scanner – whatever works best for you.
If you wish, you can also add an assistant or "staff member" to your account to help you (maximum of one staff member allowed per trader). If you'd like to see how easy it is to do this, here's an example of one of our video guides.
Now, you're ready to start selling!
You'll create a listing for each item and it will be posted to the website and to your unique shop page. You can only list a limited number of items at any one time, but each time you sell something, you can replace it with another item.
When a customer purchases an item, you'll receive an email notifying you of a new customer order. You can then package the item up and send it off to your customer (see Postage & Delivery below).
Naturally, when an item is purchased, the system will mark it as "out of stock" to prevent anyone else from purchasing it after it has been sold. However, if you have offered the item for sale on any other website, you will have to remember to remove it from that website, so we suggest that you do not list an item in multiple locations across the internet at the same time.
Payments are held as a "trader balance" for 14 days. This is to make things easier in case a customer requests a refund (see: Refunds/Returns).
After that, once your balance is €20 or more, the payment service will send the money to your bank account, deducting a small fee for their services and a commission for the website.
You can sell items for less than €20. The money will just be held until your total balance from all your sales reaches €20 or more.
The website only offers delivery options for customers based in Ireland & Northern Ireland. Addresses or postcodes outside of these areas trigger a message informing the customer there are no delivery options available for their address and they will be unable to complete the purchase.
There is no option to charge extra for shipping, so the price of shipping should be included in your product/item price.
Depending on the service you use, shipping between Ireland & Northern Ireland may be seen as the same "Zone" and therefore incur no additional charges. For example, An Post charges no more for delivery from Dublin to Belfast than it would for Dublin to Clare, and some courier services may take a similar approach.
However, Royal Mail classes shipping from Northern Ireland to Ireland as an international delivery and additional charges may therefore apply. Choose a method of delivery that will suit you whether the customer is based in Ireland or Northern Ireland, and price your item accordingly.
You should use a service that offers "Track & Trace", such as Registered Post or a courier service, so that you have a record of when you posted the item and can see when your item has been delivered successfully.
To figure out your postage costs, one method is simply to package the item up as you would for a customer, take it to a post office or your courier of choice, and enquire how much it would be to send it to Ireland & Northern Ireland (with Track & Trace). Alternatively, some shipping provider websites have an Estimate or Calculate feature that will generate a cost based on the parcel dimensions and weight that you enter. Similarly, there are comparison websites for parcel delivery which may be useful if you do not already have a preferred shipping method in mind.
Once a customer makes a purchase, they are charged immediately, so you should try to send the item in a timely manner. If an item is not received within 30 days, the customer is entitled to a refund (unless you've agreed a different timeframe with the customer or your shop advertises a shorter delivery time).
    Top Tip!
If you're going to be away for a while, on a holiday, for example, you can set your shop to "Vacation Mode" until you return.
This will prevent any purchases from taking place while you're away.
You may already be aware that many postage and courier services have special rules and exemptions for certain items. For example, some items should only be sent by registered post, and certain items are excluded from insurance guarantees. Most of these services do not offer insurance on antiques and artworks, for example. It's up to you to use a shipping service that you're satisfied with.
Generally speaking, when a customer makes a purchase online, they have the right to cancel the order and request a refund for any reason at all within 14 days of the purchase.
After this, a customer should have a valid reason for a refund. Reasons for a refund include the item not being as described, being damaged, and not being fit for purpose. At the time of writing (August 2021), there is no law which states how long a customer has to return an item which is faulty or not as described; however, we require that you allow an online customer a minimum of 7 days after receiving the item to contact you with their return request. This gives them time to examine the item thoroughly and make contact.
When listing an item, you should explicitly mention any damage or signs of "wear and tear" in the description and specify if the item is now for decorative purposes only (e.g. old devices that no longer work). You can also add photographs to your listings and should ensure these display the item clearly, including any damage or "wear and tear".
Before You've Shipped the Item
If a customer requests a refund before you've shipped the item to them, you can find that order in your Trader Dashboard and select "Refund". The payment service then will deduct the item price from your bank account (or any funds you have in credit with the payment service itself; for example, if the money hasn't yet been sent to your bank account) and return it to the customer.
After You've Shipped the Item
If a customer requests a refund after you've shipped the item, they should return the item to you (at their own cost) within 14 days of requesting the refund. Obviously, if the customer asks for a refund while the item is in transit, the 14 day period doesn't begin until they've actually received it. Shipping with "Track & Trace" means you'll know exactly when an item was received.
Once you receive the returned item, you can then issue a refund from your Trader Dashboard with a single click. The payment service then will deduct the item price from your bank account (or any funds you have in credit with the payment service itself; for example, if the money hasn't yet been sent to your bank account) and return it to the customer.
The refund itself can be carried out easily with just a few clicks, and naturally, there is a video guide to show you how.
When you use the website to sell things, the interaction is between you and the customer. You are therefore responsible for engaging respectfully, ensuring your activities are within the law, and being professional in your dealings. However, as trader actions can affect the reputation of Vintage Ireland and other traders, we reserve the right to intervene where we feel it necessary or appropriate.
When you send an item with a postal or courier service, the transaction is entirely between you and that service.
You should also be aware that we can access your trader dashboard; this helps us provide help and assistance should you need it, and it means we can put your shop into "Vacation Mode" for you if you notify us that you're indisposed or unable to tend to the shop for a time for whatever reason.
For more information, please view the online trading guides section and see the full Terms of Use for Traders.